Carol Salmanson's light and refraction
---
---
Some of the Gopher staffers grew up surrounded by Op and Kinetic art: stripes of fluorescent color, geometric forms of dubious contours and beams of tinted light were part of our childhoods in the Caribbean. Given our record, it is not surprise that we find a home-y feeling in Carol Salmanson's work, a kind of warm sensation provoked not only by the glow and hue* of the LED lights that she uses in her work, but also by that familiar feeling of visual otherworldliness, just-about-to-hit-you.
Salmanson is a native of Rhode Island currently living in Brooklyn. She started working with light almost a decade ago and has showcased her work at spaces such as Dam Stuhltrager, Mixed Greens, Gallery Ju-ichi Gatsu, Kawaguchi Art Factory and many more. On her website she explains that she "started working with light in 2003, as newly available technologies allowed me to completely transform the effects I had used in my painting. I began layering and blending different colors of light, and adding newly developed materials to play with space, form, color, and relativity of scale. I use a multiplicity of means, employing optics along with various lighting technologies, different kinds of reflective and refractive materials, and diverse structures to simultaneously contain and disseminate light. By combining spatial and color concerns with architectural and theatrical elements, I focus on both object and space so I can go beyond light, exploiting walls and other surfaces as well as the work's surroundings." After this, just a couple more words: we want this in huge public spaces. Who should we talk to?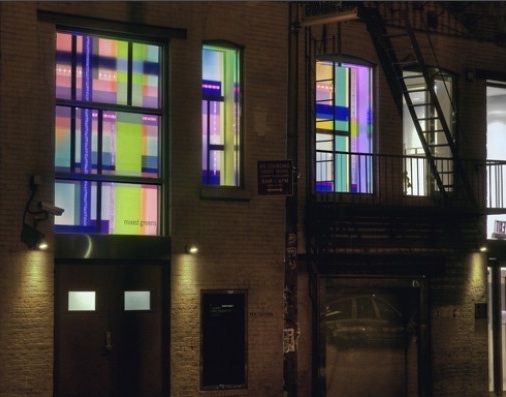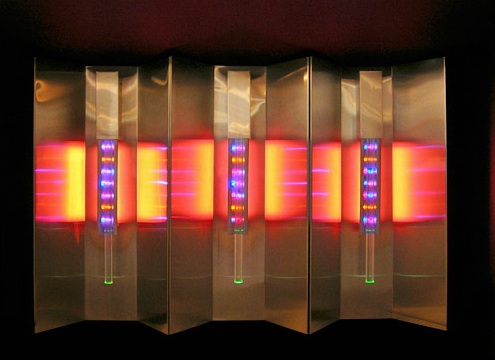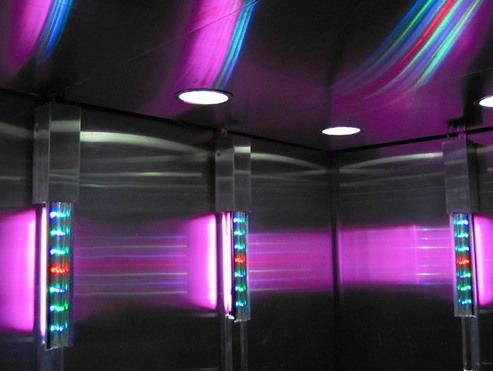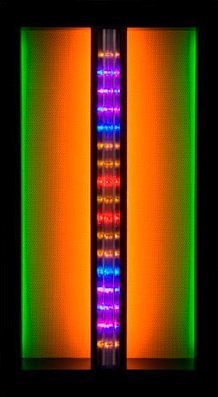 From top to bottom:
1 & 2) First two images: detail of "Diaphany", exhibited at Mixed Greens Gallery, NY.
3) "All That's Left" [ full dark view ]
4) "Luminous Layers" at Dam, Stuhltrager Gallery [ view toward street ]
5) "Luminous Layers"
6) "Luminous Layers" Southwest Elevator, 45 Main St.
7) "Luminous Layers" Southwest Elevator, 55 Washington St
8) "Luminous Layers" Northeast Elevator, 45 Main S.
9) "Luminous Layers" Southwest Elevator, 55 Washington St.
10) "Split Screen" [ yellow view ]
– – –
*we had no idea how complex hue is until today, thank you dear W.
– – –
All images copyright of Carol Salmanson.
---
---