Swiss Design beyond Müller-Brockmann: Billy Ben
---
---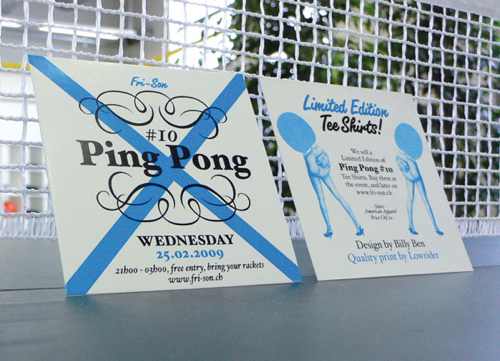 Born in Fribourg and designer from the cradle, Bénédict M. Rohrer [ a.k.a. Billy Ben ] is much more than your average line-drawing, typeface-choosing feller. To this team of Gophers, he's a character that pops up regularly when we are on the lookout for music:  Records, flyers, concert posters, dj booths and booklets recurrently carry his name on their backs, tempting us -free wheelin' e-mailers- to contact him.  This temptation proved too strong and we just went for it with B. It took twelve e-mails and glossom-mails back and forth between Caracas, Rio and Fribourg to finish this questionnaire and as we suspected it ended being a interview that was equal parts design and music. Billy not only has ability for multiplicity in the field of design, he also has an awesome taste for beats.
1 – Let's start at the beginning: Tell us about your upbringing in Lausanne? When and how did you become be interested in graphic design? Why of all places, Fribourg?
Fribourg is the town I grew up in. Lausanne was the place where I studied graphic design, at Ecal [ École Cantonale d'Art de Lausanne ]. That is why I came back to Fribourg. Before studying graphic design, I made an apprenticeship as an architectural drawer, planning on studying architecture afterwards. After my apprenticeship I got more and more interested in graphic design, the more two dimensional aspect of "arranging" and creating space. I also started to make flyers and posters for events that some friends and me organized. Then I went to visit an art school where a good friend of mine was studying industrial design, and I really liked the atmosphere and the school. Fribourg is a place where I feel good, surrounded by friends and cozy places. I now share my office with 8 other people; we have a big open space that used to be an industrial hall for the local electricity company. There is a silkscreen printer, an illustrator, another graphic design agency, a web designer and an IT guy. Together we created the "YEAH Creative Partners" sharing space and time.
2 – Tell us a little about your professional career: What was your first design job? What studios / clients have you worked for / with?
My very first design jobs where as mentioned above – flyers and posters for parties. My first series of design jobs must have been concert posters done in 2004 / 2005 for a client I still work for now, the local concert hall Fri-Son. The Bern-based Büro Destruct was doing all the programs and posters for Fri-Son, and I basically took over after them. Other clients are Couleur 3 -a Swiss public radio station from the French part of Switzerland- the Paris-based Gallerie Lovenbruck, Creaked Records, Squirrelgirl Records, Belluard Bollwerk Int… At the beginning I still worked 50% as an architectural drawer besides running my studio, this was a financial solution. Now I only work in my own studio, this is why I am actually looking to find some new clients :) Anyone?
3 – What design project are you most proud of?
That would be a Newspaper I made for Fri-Son during one concert season in 2006-2007, in which Lauris Paulus and me collaborated to form MUSIK MACHT DICK. This endeavor was in conjunction with the Fri-Son newsletter that was published on a bimonthly basis. We worked completely independent and had full artistic direction. One third of the newspaper was actual information about concerts and bands, while the rest was open space for our artistic creation. This publication was sent to households without additional packaging. You can see it on my website, as most of the other stuff.

4 – What about the most complex project you've done?
The most complex project would be the catalogue I made for the Gallerie Loevenbruck because I made this back in 2005 and I haven't had much experience in the "real" world of graphic design. I had to work with the editors in Paris and this was very complex for me. Otherwise I think that every project is somehow complex.
5 – Your portfolio shows plenty of album covers, t-shirts and flyers. What is your relationship with music and fashion? On which platform do you feel the most comfortable: print, web, books, flyers, album covers?
Music takes a big part in my life, fashion also, but that is more because I need the clothes so as not to run around naked. Like when people say that without music they can't live, well I have that too, but also with clothes :) My preferred platform is definitely print. I am looking forward to get more editorial projects to work on books or catalogues. I haven't done many of them, and would really love to work on bigger projects like books. Also, the album cover is to me a perfect platform to express graphic thoughts, in relation with something as strong as text or images – the music.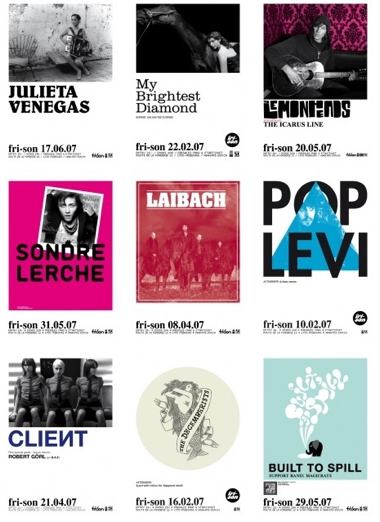 6 – Annoying question 1: what is the thing about working as a Graphic Designer / Artist that annoys you the most?
Slow computers, cold hands, dried out markers, bad music in the background, adhesive tape that suddenly comes to the end, loud scanners, paperjam in the Xerox, late UPS, phonecalls that are way too long, getting to work too late, being stuck in a creative hole.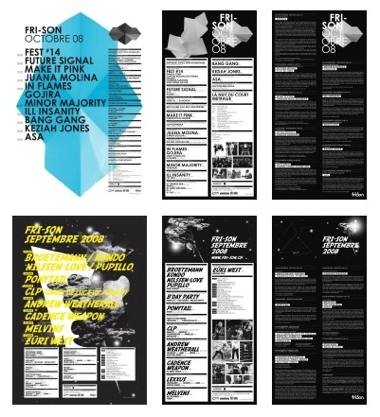 7 – What does a typical day of work look like for you? Where do you (usually) draw inspiration from?
Inspiration – I think – is everywhere all of the time. As a graphic designer I think the workday is not really on or off. It can be at any time that someone will have to write something down, or make a sketch. My typical workday starts with riding my bike to the office, having a creative morning, eating with my studio friends, and sometimes not knowing when to stop. (Ok, table tennis is a reason why sometimes we stay longer in the office). Often inspiration is generated through things that surround me, or I have deal with lately. I also work on old steel frame bicycles, I take them apart, get the frame repainted, and put them back together, either in fixies, singlespeeds or minimal roadbikes with a couple of speeds. That is also another place where I get inspiration, because it's something completely different than graphic design, this helps me switch off – and actually helps me get new ideas at the same time. Kind of keeps the wheel turning.
8 – What are your feelings towards the label "Swiss Designer"? Do you feel like you're a contemporary example of this kind of clean, grid-rigid design?
Swiss graphic design does have that label, but I must say that often I see graphic design from anywhere in the world and find it really good and interesting, no matter where it is from. I think you cant deny that there are styles, such as the "Swiss design" but I think that my design is about as Swiss as a Volvo, and the "Swiss Style" as you mentioned it is to me more like an important element in the history of modernism, things that somehow happened in the past, but are still present and used today.
"The grid system is an aid, not a guarantee. It permits a number of possible uses and each designer can look for a solution appropriate to his personal style. But one must learn how to use the grid; it is an art that requires practice" said Josef Müller-Brockmann.
9 – Who are you favorite Swiss designers? Is Josef Müller Brockmann among them?
Of course Josef Müller-Brockmann is among them, but also Karl Gerstner, Herbert Matter, Theo Ballmer, Max Bill, Adrian Frutiger, Armin Hoffman, Ernst Keller, Jan Tschichold… but there are incredible many great contemporary designers, and studios, that pop out everywhere in Switzerland. Great art schools graduate an important number of motivated students every year.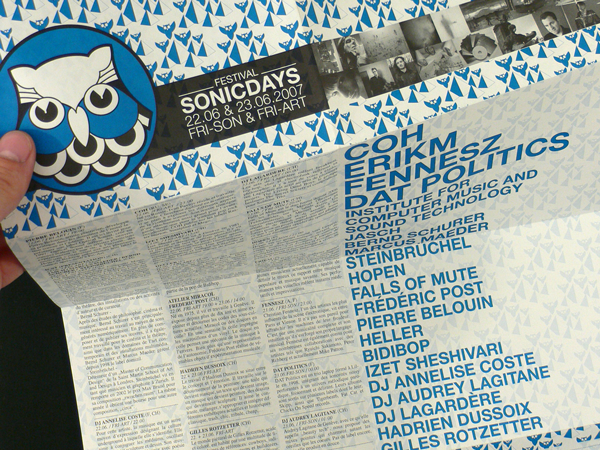 10 – We've noticed how important is typography in your work, would you be so kind to describe your relationship with typography today and how has it developed through time?
I constantly look for new typefaces. Often they are old, but new to me. The number of really good typefaces is not so big, and most graphic designers know about them and we all use them. But there are also many new typefaces showing up. I am also a big fan of creative common's typefaces; I think this is a very nice way to work. The "need" for a certain typeface changes constantly, one month I'll love it – the next month I'll hate it. Typefaces have a lot to do with mood, inspiration and the problem you're trying to solve. Sometimes typefaces are like music, some of them you learn to like, and others work fine anytime, others can get annoying and again you can re-discover them later, sometimes they get re-mixed or re-edited…
11 – How many typefaces do you have on your computer nowadays? And how many of them do you actually use?
My computer hosts way too many typefaces. I constantly try to get a certain order in all that, but then again I re-organize the whole thing, and somehow it is always an organized chaos, kind of like Rob Gordon in High Fidelity is always re-organizing his record collection. I don't know how many I finally use, if you wish to have a number, there are 8489 Font Families in my Font Explorer. I really need to clean this up! I guess I use about 3.98% of it…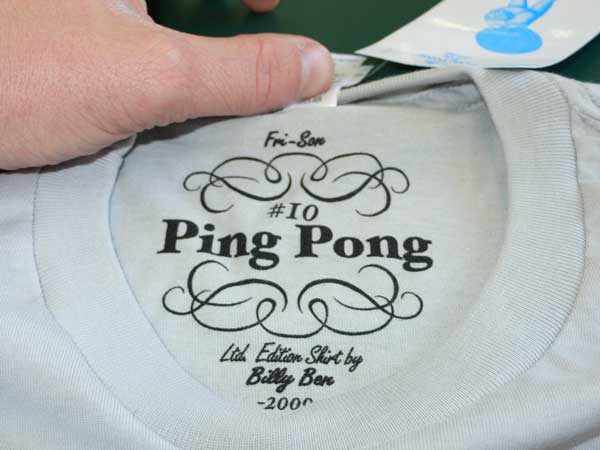 12 – Annoying question 2: We bet you saw this one coming: Currently, what are your three favorite typefaces? Why those three?
I can tell you what 3 typefaces I used this week: Times New Roman, MISO by MÃ¥rten Nettelbladt (one of those free fonts) I used it a lot lately. I like that all three weights are derived from the same strokes and only line thickness vary; and Replica by Norm, no need to say why!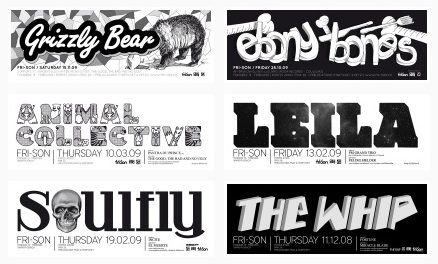 13 – We're almost done, so, what projects are you currently working on?
I am currently working together with the people from Fageta on a book for the 25th anniversary of a concert club, which I unfortunately can't name for the moment.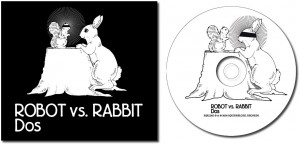 14 – Here at the Gopher office we have a wager going, based on the number of mixtapes available on your website: are you a part-time Dj? Why the mixtapes? And why the recess between 2007 and 2009?
You win: I am a part-time Dj. At the moment I have a project called "the good, the bad and no ugly" that is a Dj-duo. We mainly play aftershows and is more of an alt-country, lo-fi folk, danceable-desert-beats project. I used to Dj a lot as a minimal / house, maybe I'll get back to this one day, but for the moment I have more pleasure with the duo. By the way, the earliest mixtape on my site is one of the house sets.
For the moment I am really looking forward to play the aftershow of Grizzly Bear & Richie Havens! As you mentioned in the question you can find some of my personal mixtapes in my website, and why the mixtapes… well I listen to a lot of mixtapes from other people, especially while I work, so one day I thought I could start a mixtape section on my website. I am planning on "inviting" other people to create a mixtape for www.billyben.ch and post them. If anyone reading this wants to send me something, feel free!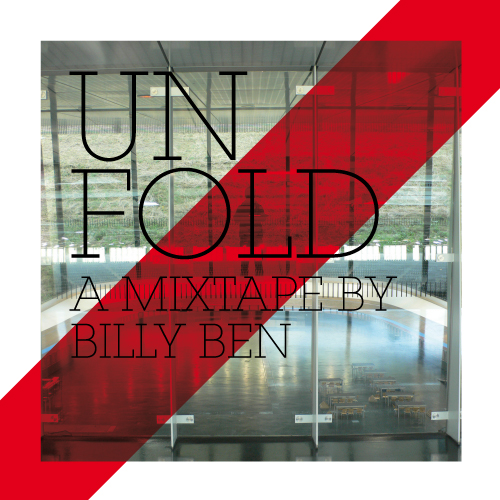 15 – Annoying question number 3: what music acts would you recommend [ from Switzerland or anywhere ]?
There are so many i wouldn't know where to start. recurrently:
For the Swiss acts, be sure to listen to: Larytta on Creaked Records, Agnès or Modeste from STHLM Audio Recordings, Velma on Gentlemen – Monopsone, and many, many more. You can also check this out: http://fairtilizer.com it's a great way to discover music and some of it can even be downloaded, people can create their own playlists and so on…
For all the others, here is a small list:
Langhorne Slim, Bon Iver, Holly Golightly, Micah P. Hinson, Bonnie 'Prince' Billy, Giant Sand, Herman Düne, Port O'Brien, Daniel Johnston, Okkervil River, Megapuss, Band of Horses, Broadcast 2000, William Elliot Whitmore, Man Man, O'Death, High Places, Great Lake Swimmers, Elvis Perkins, Ruby Suns, M. Ward, Justin Vernon, The Tallest Man On Earth, Frontier Ruckus, Beirut, Microphones, The Avett Brothers, Avey Tare, The Babyskins, Battles, Bishop Allen, The Black Crowes, The Black Lips, Black Mountain, Black Rebel Motorcycle Club, Blitzen Trapper, Chad VanGaalen, Department Of Eagles, Devendra Banhart, El Guincho, Elliott Smith, Evangelicals, The Felice Brothers, Fleet Foxes, Folklords, Giant Sand, Grizzly Bear, Guppyboy, Handsome Furs, A Hawk And A Hacksaw, Heavy Trash, Holly Golightly, Iron & Wine, Islands, Isobel Campbell & Mark Lanegan, J. Tillman, Jane Vain & The Dark Matter, Jim White, José González, Karl Blau, Kimya Dawson, Lightning Dust, Menahan Street Band, Mount Eerie, Mudcrutch, Múm, Nina Nastasia, No Smoking Orchestra, Yeasayer….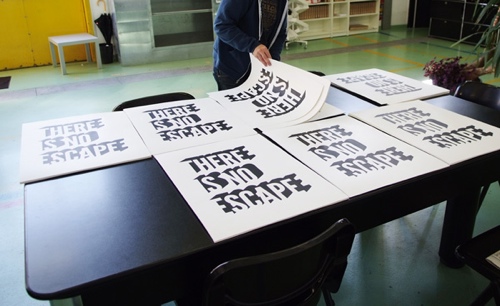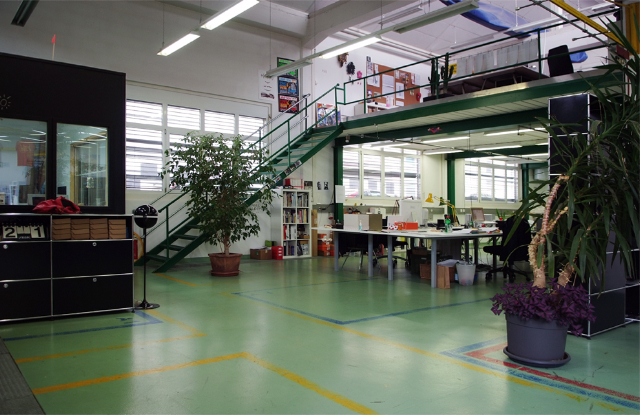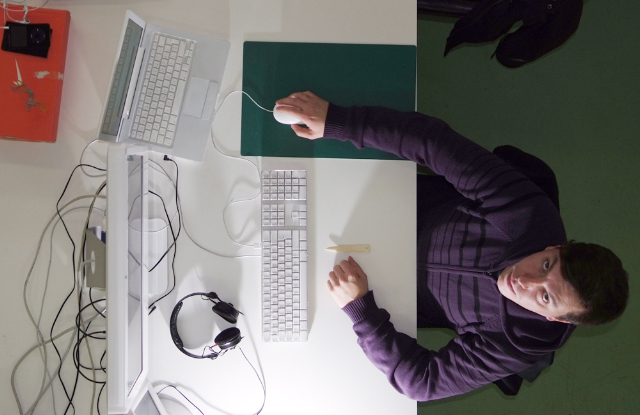 [ images 1 to 12 from www.billyben.ch , last two images courtesy of the artist ]
---
---