Music / Candy Claws Sweeten the Deal
---
---
This one time I went Scuba Diving. I was thirteen, and and I felt like an idiot with all the gear and the flippers and the mask on top of the awkwardness of being thirteen. That is, until I got in the water and floated and there was silence and tons of little, shiny fish were swimming around me and I never wanted to leave. Listening to the Candy Claws is like going in the water was that one time. Ryan and Kay are the twosome behind the band  and a real-life, book-reading, music-making couple and live in Fort Collins, Colorado (of Balloon Boy notoriety). They've agreed to give us a guided tour of some of their music – at the bottom of this post – and answer our every question. What's not to love?

1) Your album "In the Dream of the Sea Life" was conceived as a companion to Rachel Carson's book "The Sea Around Us."  Why did you choose to create music around that book?

Ryan: Miss Carson's book is simply a joy to read. It's scientific non-fiction, but written in such elegant prose, it may as well be poetry. I often found myself re-reading entire passages just for the way she puts words together. She is perhaps the most eloquent author I've ever read, and it's all the better because she is writing about science. I suppose a person so intimately acquainted with the sea couldn't help but be eloquent. For each discovery she reveals about our oceans, she rejoices equally at their mystery. Hers is the best kind of science – the kind that marvels along with the rest of us at the wonders of its subject. The book is a hymn to the sea, and that's what we were making too.

2) How did the album come about? What was the process of conceiving and creating it? What have you learned from this process?

Ryan: We wrote the songs as we recorded them. For two years we hid away and made the album, without the distractions of live shows, merchandise, and all of that. It was risky but we hoped that the quality of the music would make up for our lack of self-promotion. We would arrange each song on guitar, then add various sampled instruments to those first guitar tracks. Most of the work was in the digital magic and mixing that happened on the computer. Our recording set-up was primitive, a mic and a compressor, but the software we used let us take ordinary sounds and make them sparkly and magical. We also programmed a lot of the beats and synth lines on the computer, just like that. Vocals came last, out of our mouths.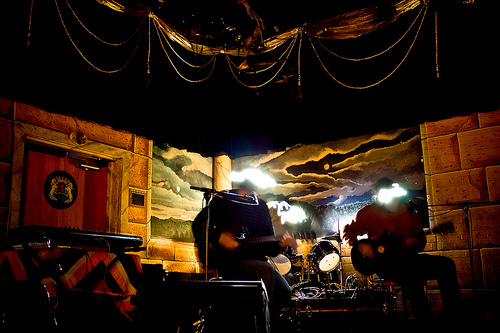 3) Will your next project also accompany a book? If so, what are your parameters for choosing the book?

Kay: Yes our next album will be accompanied by the book, "The Secret Life of the Forest." It's a scientific book that starts off talking about the ancient life of plants and goes on to tell all about the wonders of the forests.
Ryan: Kay found the book in our favorite secret bookstore, and we were in love with the illustrations. It turned out to have the same special magic as "The Sea Around Us," a marvelous story of the living world stretching back into deep time.

4) Many (if not all) tracks on this album contain samples of sea recordings. Seeing as some interest in nature's wonders are evident in your music (and internet debris) I wonder what the next natural frontier is for you: will you tackle mountain ranges, forests and the like, or are you likely to stick to a nautical theme?

Ryan: The forest is next, but not every album will be for a certain ecosystem. Maybe we'll make a companion to a chart of the Hydra constellation, maybe the Triassic period itself.
Kay: Right now it is more than we know.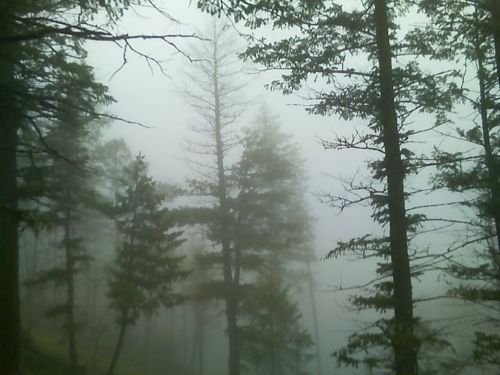 5) Tell us about those videos on your website: Do you make them yourselves? Do you put music to video or do you create a video around the music?

Kay: We walk around quietly in national forests and film beautiful small and big things. It's a nice time, like a meditation.
Ryan: The music in those videos is made up of the first glimpses of the early sounds of our next album. The footage and the music are arranged together, to make a nice flow of eternity in two or four minutes, sometimes seven. We're lucky enough to live close to natural settings, so we spend as much time as possible documenting for humans everywhere, and animals too, if they understand. Maybe they understand more than we do.


Catamaran from Candy Claws on Vimeo.

6) What came first: the band or your relationship? How has being a couple affected your work and viceversa?

Ryan: Two years ago, we were best friends who loved making music, so the band was mostly inevitable. Since then, we've become more than friends. It's very wonderful, we get to do everything together. A lot of musicians have to balance their art with their relationships, but it's everything all the time for us. There's nothing in the world like singing lovely things with your girl.
Kay: I'm lucky because not many girls get to sing beautiful melodies and harmonies with their darling darling.

7) How would you describe your music to someone unable to experience it?

Kay: If I were to explain our music visually, it would be big underwater explosions. There are many things weaving in and out of it, like a giant scarf.
Ryan: If I could put our music all over the person while they slept, they would dream of electric eels and angler fish down in the crushing depths. Would they swim together in that dream of dreams? They would. It is some kind of shimmering illusion, down where the sunbeam show echoes on the long snowfall of silica from the diatoms.

8) What kind of music would you like to hear more about today? Could you recommend some music?

Ryan: I'd like to hear more about mid-century Space Age composers. Here are some of our favorites: Bob Thompson, Frank Comstock, and Walter Schumann.
Kay: I would like to say that I really like Tom Waits and Joanna Newsom because they're weird, very poetic, and great musicians.
Ryan: Some favorite albums, highly recommended like solar wind: "See it Another Way" by Macha, "Skyscraper National Park" by Hayden, "Point" by Cornelius, "Felt Mountain" by Goldfrapp, "Today!" by the Beach Boys, everything by the Lassie Foundation, everything by Starflyer 59.

9) Is there anything you would like to add?

Kay's answers may seem like a 1st grader wrote them because she is in 1st grade.

———–
Candy Claws / Tracks
Candy Claws
Catamaran [ Indiecater Records, 2009 ]
Audio clip: Adobe Flash Player (version 9 or above) is required to play this audio clip. Download the latest version here. You also need to have JavaScript enabled in your browser.

This is our imaginary trip to a coral reef. You can hear the play of sunbeams through the surface of the water. The drum solo is an underwater volcanic eruption, the constant rolling-over of more lava, like liquid boulders falling across the ocean floor. This song reminds Kay of Italy, especially the music box solo.

Candy Claws
Diving Knife [ Indiecater Records, 2009 ]
Audio clip: Adobe Flash Player (version 9 or above) is required to play this audio clip. Download the latest version here. You also need to have JavaScript enabled in your browser.

This song mentions the beginnings of the ocean, the drift of the first water that rained down upon the cooling surface of the earth. The incessant crashing cymbals are the breaking waves, and the high, chiming guitars that appear in the middle of the song are the first signs of life in the sea. The diving knife is a signal of the constant danger of the world, and the song thinks fondly of the glowing struggle of living things.

Candy Claws
Island Grows [ Indiecater Records, 2009 ]
Audio clip: Adobe Flash Player (version 9 or above) is required to play this audio clip. Download the latest version here. You also need to have JavaScript enabled in your browser.

The bendy synth line in the intro mimics an island guitar from Hawaii. We imagine a bathysphere diving down and waking a sea creature from its sleep. Island grows means that nautical geography is always changing, and many islands are born of lava. We like the quiet drum beat, it reminds us of very tropical places.

Candy Claws
Snowy Shores [ Indiecater Records, 2009 ]
Audio clip: Adobe Flash Player (version 9 or above) is required to play this audio clip. Download the latest version here. You also need to have JavaScript enabled in your browser.

This is our ballad. It takes us down to the bottom of the world, where the seashore is cold and white. The ocean is not just warm and sunny, it reaches across the planet even to the wonderful wintry latitudes. This is a favorite because of the majestic string arrangements. Everything we've done is a dream or it's love.

Candy Claws
Starry Fighter Kite [ Indiecater Records, 2009 ]
Audio clip: Adobe Flash Player (version 9 or above) is required to play this audio clip. Download the latest version here. You also need to have JavaScript enabled in your browser.

This is the first song we wrote together. A starry fighter kite is our name for the strange creatures of the deep, which glow and blink with some kind of magic electricity. The song also mentions a snowstorm, which is a reference to the eternal downward drift of ocean debris: particles of sediment washed down from the continents, discarded shells of the Globigerina, and silica from the diatoms and radiolarians. In her book, Rachel Carson uses different processes of terrestrial nature as metaphors for undersea occurrences. Very beautiful.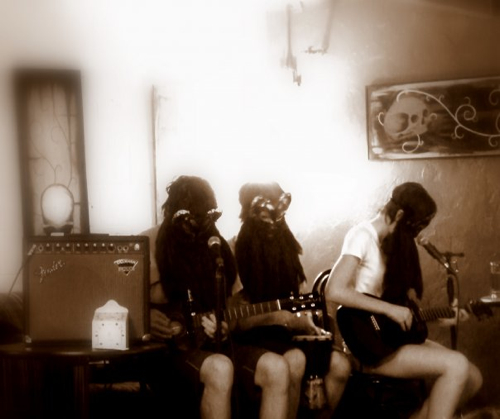 ---
---