Ultra Secret Sneak Peek: The Gopher – Volume 2
---
---
Hello! As some of you might know already, some months ago the Gopher team moved it's headquarters to sunny Austin, TX. Here we found a new home, a profusion of amazing friendships and a place to continue this project for the promotion of talents in the arts. The Gopher's projects also reach beyond this editorial endeavor. In the upcoming months we'll be releasing a series of projects in partnership with some awesome institutions – but we'll keep that for another post.
Right now we want to talk about our much-beloved publication. The Gopher Magazine – Vol. 2: On City Limits explores what it means to be a dweller of a modern urban landscape, both from the perspective of what limits are set upon us and what boundaries disappear. The edition includes articles dealing with new perspectives in urbanism [ with jetpacks! ], the effects of cities on our biology, art that terrorizes curators, haikyo photography and even a game designed to convert your city into a board game. Our Features section presents a new edition of our series Two Takes On [ this time about animal history ], a tête à tête with Jeff Koons, Q&A with Hanif Kureishi, opinions from the brain behind the NY Times crosswords and more. Our portfolio features painter Jaime Gili, illustrator Puño and photographer Thobias Fäldt, author of our by-the-seaside cover image. We also continue our tradition of featuring two works of literature with the American Todd Zuniga, who is also the editor of Opium Magazine, and the Argentine Daniel Link, who is an all around bad-ass.
Lastly, the purpose of this post is not only to dish up an appetizer of what's to come in our next edition, but also to remind readers and creators that as a growing project we're always grateful for support that allows us to produce this mag. If you're into the mag and want to secure a copy you can pre-buy the next edition of the magazine HERE, as well as the Vol.1 and Vol.2 as a combo here.
If you're feeling patron-of-the-artsy you can always contribute and forever carve a place in our hearts [ and in the magazine's thank you notes! ]. We leave you with some sneak-peek images of our upcoming edition under these lines, and please don't hesitate to send notes, ideas or comments this way: info@gopherillustrated.org !
Salud!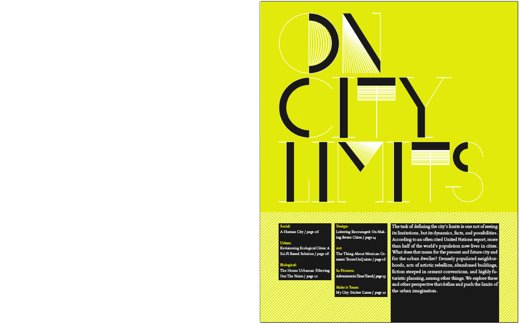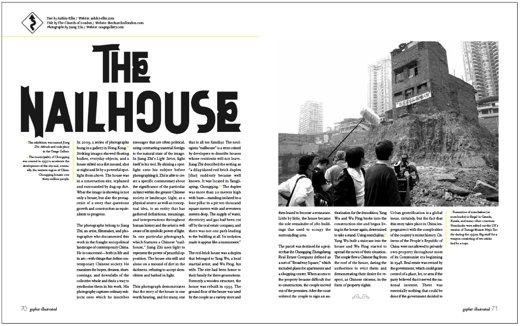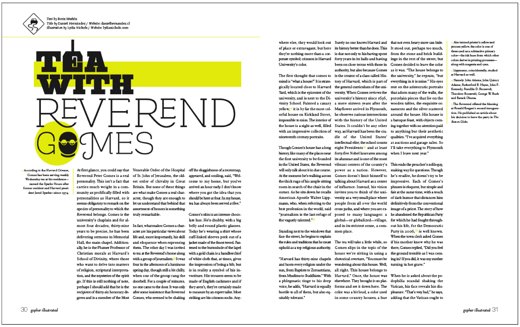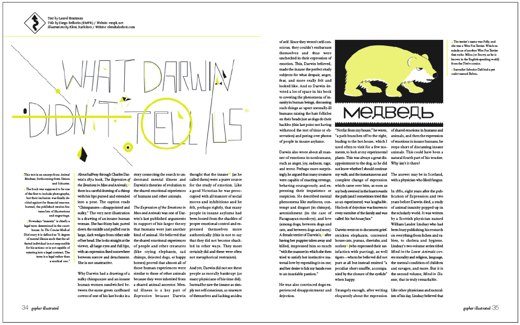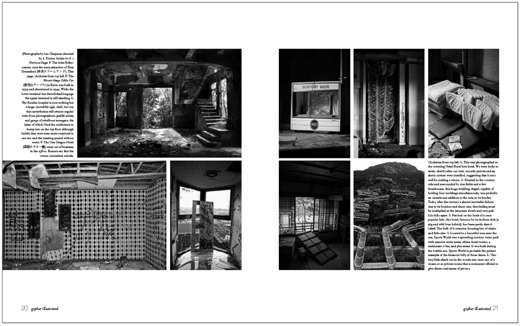 For more information on the next edition or anything Gopher-related, do follow us on Facebook or Twitter!
From top to bottom: cover of issue 002 with photograph by Thobias Fäldt, editorial of issue 002, theme cover, art by Gustav Dejert, infographic by Staff + MODO, original lettering by MODO, "Nailhouse" title by The Church of London, and photograph by Jiang Zhi, features cover, "Hanif Kureishi" title by Ryan Rhodes, Illustration by Anthony Garza, "Tea with Reverend Gomes" title typography by Daniel Hernández, fragment of Jaime Gili's portfolio, fragment of Thobias Fäldt's portfolio, fragment of Puño's portfolio, "Darwin" title by EMPK and illustration by Eleni Kalorkoti, "Jeff Koons" title by GIB, "Haikyo" photographs by Florian Seidel and Lee Chapman, "My City" spread by Staff + MODO.
---
---