Interview / warm weather, Campari and Guy Yanai
---
---
As August comes to an end, we bring you an artist from beyond the turning leaves of Europe and America. Guy Yanai is a Middle eastern painter, the founder of the well-known project Gallery 33. Our sources reveal that Guy is also a better-than-average tennis player and Campari lover. For you, gentle readers, Guy and a couple of hours of Friday left, enjoy both. Read though.

[ click on the title for full interview ]

– – –

1. Let's start with the beginning: tell us about your upbringing in Haifa.
I was brought up in a very normal Haifa building. We lived on the seventh floor of an eight floor building that, in my memory, looks like social housing from Eastern Europe. Very standard, but with a very tightly woven social fabric. There was no "art", knowledge of art, or even the notion of being an artist. With that, my childhood in Haifa was idyllic, perfect, and very positive. If you got caught doing something bad your neighbor would spank you, that was something that happened a lot. We lived right near a little pedestrian street of shops. A pizza store, ice cream, toys. When another pizza store opened on the same street it was a big big deal.

2. When did you know you wanted to become an artist?
Forever, even in kindergarden I was making sculptures of tanks, writing poetry for my grandmother, drawing, and had (as I still do) a ferocious curiosity. At the age of fifteen though, late one night, while painting a work in homage to the Toni Morrison novel, The Bluest Eye, I had consciously decided to become an artist, this decision inflated me with euphoria.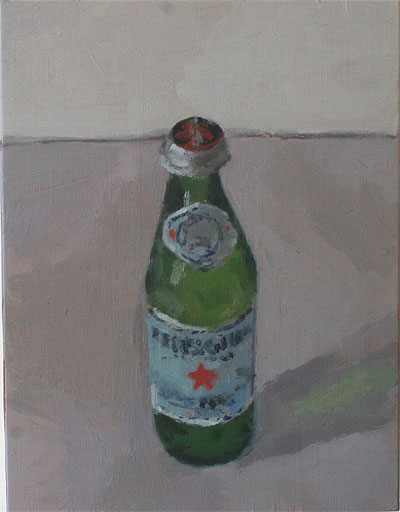 3. How would you describe your work to a blind person?
Emotion, the restraint of emotion visualized. Visualized, in an individual way. In an individual way that is aware of the immense history of art and aware of his own solitude in contemporary society. In a way, sadly, maybe even hopefully, you couldn't describe my work to a blind person. I always want my work to be totally in its own language. Meaning if I could describe a painting exactly, then why paint it? You can write about it. The best works of art have the most written about them because you can't really write about something that is so in its own language. There is always this mental gap.

4.What do you hope to communicate through your work? Do you expect any reaction?
To be honest, while working I don't concern myself with what I want to communicate. I have this Kierkegaardian faith that in the end things will work out. I work in projects, in themes, in which each project is a set of parameters with its own lexicon. Personally I get very very excited while working, and with the ups comes the downs.
In every project, I guess in an unconscious way every work has double and mixed meaning, usually small jokes, subtle quotes, quiet homages. Do I want the viewer to see this of course! Do they see it, mostly not, because in the end my aim is for an aesthetic image, a perfect being of beauty.

5. Do you have any recurring themes or figures in your work? If so, what are they? if not, why?
For a long time there was this sort of dilemma in my work that I think is finally over. I made small abstract works, and large representational works. Some people loved the abstract works, other loved the large works, very few people understood the two groups together. It was as if I was a parliament, with extreme left and right in one body. In 2005 and 2006 I only worked in total abstraction (Homage to the Etruscans, Untitled 2006). Then in 2007 I had this urge to paint "things". Ever since then the dilemma just disappeared.

6. What medium are you most comfortable using?
I paint in oil. For the past five years I've only worked on paper and birch panels. On panels I can go ape shit, throw the painting, sand it, and paint very hard, plus the paint sticks so nicely on the surface. Of course, I use acrylics and gauche for quicker things.

7. How did the idea for Gallery 33 come up? Who is involved in the project and how has it evolved?
Thats a whole other interview. In 2004 I wanted to create this sort of project space for work that wasn't really being shown in TLV. Liat and I set it up. Galley 33 was tiny, I mean tiny, but every single aspect was perfect, the wall color, the graphics, the table, the chair, the hanging. We showed work by local artists, as well as works by Victor Man, Joshua Deaner, and Bronlyn Jones among others, and published some beautiful catalogs. The thing with Gallery 33, is that from a small project space we became serious dealers, something that we never wanted to be. We were about to move to a huge space and to start a bookshop in the gallery. We were a few days from signing. Then I had this insane anxiety attack which sent me to the emergency room, I knew that Gallery 33 was over. Collectors and curators offered to buy the gallery, but we rejected all of the offers.

8. What is a typical day for you?
I wake up very early now, as Romy, our beautiful baby, wakes up at around 6:30 (and starts to order us around). First thing is turn on the espresso machine. I start the day slowly, reading emails, reading news. I'll get to the studio around 10-10:30, and get home before seven. We cook almost every night, and with the summer heat here have been drinking a lot of Campari. I'm in bed with a book by 11 now. Pretty boring on the outside, but always with insane drama on the inside. The work ethic and being in the studio is very important to me.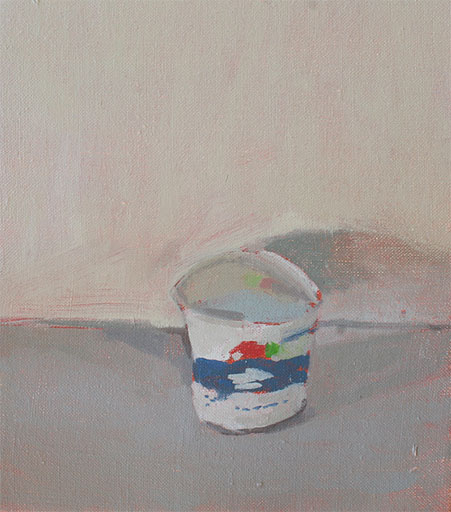 9. Tell us about the art scene in the Middle East; what does it respond to aesthetically? Who are some of the major figures in the Middle Eastern arts scene these days?
Regrettably, I can only tell you about the Israeli art scene. Israel is kind of an island in that respect. What I do see from Bidoun, websites, etc… is that there is a tremendous artistic energy in neighboring countries. I would love to visit Beirut and Damascus, I hope to be able to.
In Israel, although small, is buzzing with so much activity that it can get overwhelming. No joke, there is so much talent in Tel Aviv, and it's so condensed. Most of what is happening here is hyper contemporary. I have a high admiration for the Tel Aviv scene. Guy Ben Ner, Ariel Schlesinger, Yael Bartana are some of the many artists that I'm really into here.

10. What is the story behind your "Political Science" series? How did it come about and how has it been received?
Political Science is one of my favorite projects. The series is nine large (and very very heavy) birch panels. I guess the story is that I wanted to take small "innocent" objects and make them into situations, leaders, forms of government, etc… They can be read in many ways. a lot of people told me that they just like the chair, the plants, and that was enough for them to really get into the work. I really wanted to add that cognitive layer on to the paintings. To make a tiny succulent plant become a City-State, to allow the composition and spatial treatment to become Scandinavian Socialism. Thats all I want to say, saying more about Political Science would harm it. The show was received very well here, there was a lot of press and coverage, and many of my peers and collectors were really into the project,

11. In your "Homages" series we find a few duplicate objects represented – what was the idea behind this? Was this move commercially driven? How were the duplicates presented in exhibition, consecutively or far apart?
In Objects/Homages there are in all 50 paintings. Some of the objects were painted numerous times. Before the panels I was working on paper, and I would make the same painting five, six, even seven times. It has absolutely nothing to do with being able to sell more. The opposite. It has to do with really figuring out why I become obsessed with these objects. Why I painted them, and what I learned. The Veuve Cliquot was painted three times, and each painting is totally different. The cottage cheese was painted three times, the hyacinth twice, the cirio pomodoro pelati twice, the Hemut Lang cologne twice. Sometimes the paintings looks almost identical like in the Hyacinth, sometimes its a whole different universe like in the Helmut Lang paintings.
I always wanted to show the whole project together, but many of the works left the studio early on. Some of them were shown in some group shows. But, yeah, I never put "duplicates" next to each other.

12. There are vast differences between your representation of blood in the series you presented in 2002 and the second, completed in 2004. What is the reason for this?
The simplest answer is that I moved studios. Since those works are totally observational, the move affected the whole palette.

13. We were reading an interview with Andreas Gursky that Art World magazine published, and we're stealing a question from them: If you had to live with a single piece of artwork for the rest of your life, which one would you choose and why?
Wow! good question. In November I was in Vence, the Matisse Chapel brought me to tears, to tears! But I couldn't bring that into my apartment could I? It would definitely be something ancient. Something that has survived many layers and years of thought, maybe a super old big greek vase, something that you can always get more the more you look at it. Maybe a late Matisse cutout. Maybe Piero della Francesca's panel The Flagellation. Maybe some of the early early decorative frescoes from the Palazzo Massimo museum in Roma. Phhhh. This is the hardest question. There is so much profound good art that I love. I need to think more :) .

14. And finally: how did you and our lovely editor Kyra meet ? Was alcohol involved ?
Liat, my wife, set up a tennis game in Herzilya with Kyra thru ASW. We all started hanging out quickly. Alcohol obviously became an integral part :) Yeah we hung out here and had some cool times, and some very fun meals. Kyra pretty much rules.

[ all images belong to the Homages series ]
---
---