---
There is no excerpt because this is a protected post.
Read More »
---
Our own Editor and Art Director Lope went to Chile last year. And a camera crew appears to have joined his group. If you've ever wondered what it's like... Read More »
---
Visual deliciousness, it's what's cookin' at out TUMBLR page.
---
_we can't help falling in love with the branding for Toronto's Power Plant contemporary art gallery.
---
_motion graphics wunderkind Joshua Catalano was born in Landerneau (where Breton is still spoken!), and is now based in Paris.
---
_being a TED Fellow has been without a doubt one of the most important experiences... Read More »
---
_ as you gear up for turkey gobbling, consider the lovely printed matter. The FPO Awards... Read More »
---
_it was done over a decade ago, but we're still completely in love with the Mended Spiderweb project... Read More »
---
_as simple as possible: Larissa Kasper lives in Zurich and studies visual communication. She's also a good... Read More »
---
_we're digging Jae Rhim Lee's TED Talk on her Read More »
---
_we're late to this funeral but mourning none the less: Colophon is officially over.
---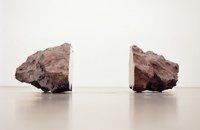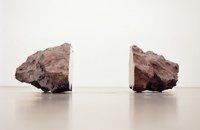 _last week at the TXContemporary we met the lovely folks behind Cosmocosa's art space in... Read More »
---
_before you go to sleep: Joan Saló.
---
_busy week for Mario Wagner: yesterday he published a new website and on Monday announced a... Read More »
---
_our dear Nathan Rothstein sends word of his latest project, in which "people raise money for the... Read More »
---
_artist Hidenori Mitsue shows who's boss.
---
_today we met some fine folks from Austin Beerworks. Be sure to check out their rad website... Read More »
---
_magazines worth taking home: Lucky Peach, by Momofuku's David Chang.
---
_you know you're a fffound nerd, when you start talking about images as if they were... Read More »
---
_we WANT: Lufthansa + Graphic Design by Jens Müller and Karen Weiland (via Read More »
---
_spending time in Europe this fall? The Curators Network might be an interesting resource for you.
---
---
_"this is my website, there are many like it, but this one is mine" Yes, we really like... Read More »
---
_word of the day at the Gopher HQ: rigmarole! Wonder what is NOT a rigmarole? Michael Bojkowski's Read More »
---
_we're sure you have seen it already, but in case you haven't: Stephen Tillmans' Read More »
---
_"the Isolated Building Studies are the visual confluence of my interests in urban dynamism, socioeconomic inequality and photography. By... Read More »
---
_Libya! Monday and Islam Zawawi.
…
Read More »
---
_there's not a lot of information on Si-Chan Park out there: he was a student of... Read More »
---
_one of our favorite typefaces of the year: YWFT S3 by Norrasak Ramasute, from Thailand.
---
_the impenetrable mind (and website) of Joshua Kolbo.
---
_the RE-tooling program "considers the most relevant methods for supporting knowledge development" with an emphasis in residencies. Collab... Read More »
---
_today we bumped into an article titled "Matthias Hoch – To the Beat of the Techno-Systems",  after... Read More »
---
Doug Freeman is a multi-talented Austin hero. The former Austin Chronicle writer, and current occasional columnist, has also co-authored... Read More »
---
_together, hard at work: Richard Perez made this beautiful artwork for the second installement... Read More »
---
_today a post for the Spanish-speaking crowd: Blanca Haddad is not only one of our dearest friends,... Read More »
---
_what's up with Glasgow this week? Sandy Smith lives in NYC now but G-city is all over... Read More »
---
_even if we couldn't even begin to imagine how Genadii Berёzkin's name is pronounced, we like his work.
---
_we like Freytag's photography, but we adore Berg Design's brochures. Is this how Glasgow looks like?
---
_the new edition of Ácido Surtido is out now, the theme... Read More »
---
_"how can we avoid fictionalising this reality?" This and other uncomfortable questions, present in the work of portuguese photographer... Read More »
---
_sad news for the design world: Alex Steinweiss died today.
---
_last year the Association of Illustrators and Transport for London had a poster competition that was a major... Read More »
---
_today we had a lovely chat with Devon Dikeou, founder of the mammoth-size Zing Magazine.
---
Part two of this illustrious effort by our dear, talented friends...
Read More »
---
_illustrator Karan Singh runs the beautiful Pig Bimpin' blog from his homebase in... Read More »
---
_today we had a blast watching Shohei Shigematsu's architecture talk at TED Global, also... Read More »
---
July in Texas is… hot. The temperature climbed up quickly in May and has been inching ever closer to... Read More »
---
_Amilcar sent word about this VBS vid shot in Caracas, which is the perfect way... Read More »
---
_designer Adam Parks have been making Illuminated Mixtapes for four years now, each... Read More »
---
_we were looking for dotted lines and 8-bit chutzpah and we found Melvin Galapon.
---
_one of the most amazing features we've ever seen in a portfolio website: Paul Sahre's "regrets" include... Read More »
---
_tumblr Tuesday time: Non-Clickable Item is a visual goodie bag
---
_school may just be too cool for you, thanks to some magicking by Dietwee for Hogeschool Utrecht
---
Zarouhie was in town on an artistic mission back when... Read More »
---
_looking for something beautiful to hang in our office walls: Kellie Talbot's typographic paintings definitely make... Read More »
---
_if you feel like you must download something today, download McNair Evans' photography portfolio zine [... Read More »
---
_the url says longliveanalog, but Chad Kouri's work means much more than that.
---
_we know he's a superstar already, but we wanted to end the week on a high note: Read More »
---
_it reads: "Colma is the only city in the United States where the dead outnumber the living. Cemeteries make... Read More »
---
_take that, stupid Ikea shelves: Andreas Gysin and Sidi Vanetti.
---
_from (early 20th Century) Japan, with love. And awesome.
---
Do watch in fullscreen mode! / Para ser visto a pantalla completa!
More info / Más info:
Teleportal Readings
Read More »
---
_today we published a brief recap of some of the stuff we're working on, do check it at the... Read More »
---
_"my first foley kit" and "how to run an airport" are among some of the works art-directed by  Read More »
---
_it reads: "George Boorujy attended the University of Miami in order to pursue a career as... Read More »
---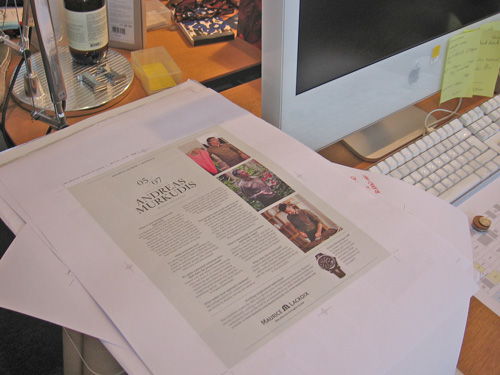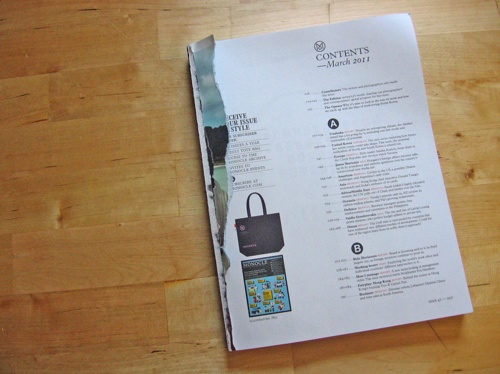 Early last year, as we strolled the streets of London, we decided to take the opportunity to... Read More »
---
_ending the week with a bit of colorful sound and vision: Moonwalk Films.
---
_"Adrienne Miller is a Nashville-based artist whose work deals with themes of secrets, memory, and shared... Read More »
---
_a public service announcement for our dear readers in Brooklyn: world-famous Two Arms Inc. is a neighbor of... Read More »
---
_we're doing two collaborative projects at the Fusebox Festival 2011, one of them is with Read More »
---
_in honor of the breadless wonder-week that rhymes with flassover: Psychedelic Judaism brings the tunes.
---
_tomorrow is Record Store Day! Support your local shops!
---
_week's almost over and Richard Wood's all over our office.
---
_truth be told, we don't remember who told us about Maria Theresa Keown's work!
---
_why we love mail: today we got to know the work of Sergio Membrillas, illustrator extraordinaire.
---
_VW must be one of our favorite sculptures by Giles Round. Period.
---
_our beloved Senior Designer Alexander Wright was featured in Design Work Life! also, he... Read More »
---
_trying to do some illustrations, failing miserably, envying Gary Taxali.
---
_tough times for the Prada-Marfa installation by Michael Elmgreen and Ingar Dragse.
---
_music Monday and the press release says it all: tropical bass tunes for ya'll – Sunsplash.
---
_once a month, free typography Friday, this time: Hyperbola by Tarin Yuangtrakul [ via Read More »
---
What's on the menu?
What's in this thing, you ask? Well, we've got images, and features, and interviews, and articles, and short bits, and long bits, video posts, sound posts, lists and series, the local, the worldly, the controversial, the inane, and sometimes, if you look closely, the not-fit-for-print (which, of course, we'll just print anyways). Mostly old stuff, and new stuff. You know... the usual.