Elle Lefant is pachyderm-style indie pop
---
---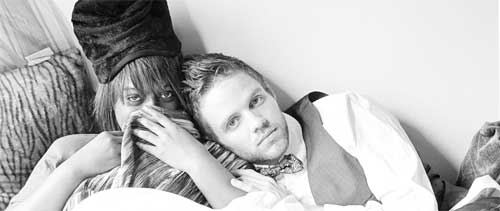 Continuing with the habit of interviewing bands that find their name inspiration in the Animal Kingdom, this time The Gopher went to talk to Nijae Draine, half of American indie pop duo Elle Lefant. Injecting love and emotion into fresh beats and electronic rhythms, this young duet embark on their musical endeavors with a lot of dynamism. Take your shoes off, sit back, and get to know them, as we did, from a conversation over a college cafeteria table… you're bound to find something you'll want to play on repeat.
To start off, how and when did Elle Lefant come together officially?
In 2008, during my sophomore year at Vassar College, I was part of a theatre troupe and through this group is basically how I met Max. We were putting on the play 'Talking to Terrorists' by Robin Soans, which he was directing. I was playing a Ugandan child soldier in it, too, so we got to travel to Wyoming for nine weeks and we started to spend a lot of time together and quickly became close friends. I remember that on the night of July 4th we went to a Hoedown in the middle of nowhere and I grabbed a banjo and just started playing some tunes and singing along to them. I had never really sung before that one time or prior to coming to college really, so it felt great. Later on we met at a birthday party; I was playing music and, with banjo in hand, Max finally proposed we do music together. We shared an intense love for music and from then on, we've been evolving as individual artists and together as Elle Lefant. The start was somehow unexpected, but yet perfectly timed.
Audio clip: Adobe Flash Player (version 9 or above) is required to play this audio clip. Download the latest version here. You also need to have JavaScript enabled in your browser.
Elle Lefant - Runaways
What artists inspire you as a singer?
Most of my initial musical/vocal inspiration came from folk music and pop. For example, artists like Nina Simone played a key role in building my identity as a singer and indirectly that of Elle Lefant. But I was, and continue to be, really inspired by older artists with great voices like Billie Holiday, Ella Fitzgerald and Louis Armstrong. Our music is a combination of these styles with a heavy dose of indie pop. We felt that pop vocals were somehow sterile and really emotionless most of the time, so we wanted to add pain, hope, love, and emotion in general to this musical genre. These artists add a lot of that to their music, so that's why they inspire us.
Now, which artists serve as inspiration for you two as a duet?
Max and I are both in love with Bon Iver. He really represents the kind of emotion we want to convey and we like how he puts together a reality that's true to him and his fans – and that's exactly what we aspire to do. On the other hand we also really like the way in which Lykke Li's music just moves people, and we want to make our fans want to move both physically and emotionally.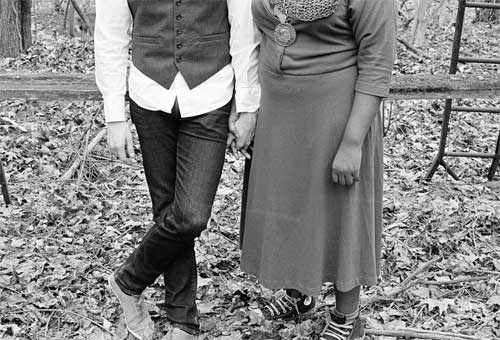 What is a defining aspect of Elle Lefant, and which one of your tracks do you feel represents it best?
I feel that "Ballad of the Metronome" is the one track that is really reflective of our development as musicians. I first recorded it within the small space of my dorm room, using really basic software and just my computer microphone. It was very folky. Then, as Elle Lefant, we added several different elements and it got to what it sounds like today. I think that through this song I can really see the evolution we've had as artists and as a duet. We are creating, recreating, constructing and deconstructing all the time so I am excited to see what kind of music we will be making in the future!
Tell us a little bit more about what it is like being part of a band while attending college. In which ways has this influenced your music?
I would as far as to say that without Vassar I would not be making music. I really didn't start singing until I came here. I don't even really know where my voice came from, I just happened to discover it. My music and my voice both evolved with me as I was learning and growing through my experiences at the college. This place and the amazing, wonderful people it consists of contributed so much to who I am today and how I relate to my music.
Audio clip: Adobe Flash Player (version 9 or above) is required to play this audio clip. Download the latest version here. You also need to have JavaScript enabled in your browser.
Elle Lefant – Ballad of the Metronome
Where do you find inspiration for your lyrics? Would you say there is a unifying theme in your album "Pulse"?
Inspiration for my lyrics does not come from my own experiences or my life per se, since my songs find their motifs in the people I admire that live around me. "Pulse" deals with the theme of unreachable love and most of the feelings that I try to describe I have yet to experience, so there is a lot of imagination, spontaneity and (in)opportune spurs of creativity.
How would you describe the production process of Elle Lefant?
It usually just starts at 2 a.m. when I am sitting in my room about to go to bed. I get an idea, and then in my computer I create a skeleton of what I want the song and its tone to be. Then I email it to Max and he listens to it on repeat while traveling on the subway in NYC and only then we start to work on it together – adding elements, changing transitions and tweaking things around. If I feel like rewriting the lyrics, I do. Our songs just grow very organically.
We know that you have started considering some significant changes in terms of your musical identity. What are your plans for the new project? Is it a big change, in terms of style?
Yes, we just got started on a new collaborative musical endeavor that we call Crash Collect. It's basically just us branching out from Elle Lefant and expanding our field of inspiration and production. Elle Lefant still is and will continue to be a part of Crash Collect, but now we are doing what we want to do… If we feel like creating some folk we'll just do it, but Crash Collect is going to be a little bit 'poppier' and more 'dancy.' In some aspects we weren't completely happy with Elle Lefant so now this is us wanting to grasp the sound we want, and it is in some ways "less constricting" to create music this way. Crash Collect is open to different musical options that include Max and I, Max in NYC or just me at Vassar with people I feel like doing music with. The both of us are not only interested in making music, so this might lead to some interesting swifts in the way we've been working so far. Crash Collect even holds room for Max's theater plays and some of my poetry as well. It will be a place for fans and friends to check out everything we are doing, artistically speaking.
Audio clip: Adobe Flash Player (version 9 or above) is required to play this audio clip. Download the latest version here. You also need to have JavaScript enabled in your browser.
Elle Lefant - No Moon
And to finish… If you weren't answering this interview right now, where would you be?
Honestly, I would be asleep. I'm exhausted!
---
---