Uncomfortable topics and Julio Ramirez's many hats.
---
---
Writer and filmmaker Julio Ramirez is not just a friend but also an inspiration, genuinely. I first had the pleasure of meeting Julio in the summer of '07, during an intense three-week screenwriting program (or soul searching session) at TheFilmSchool in Seattle. We were among only five students in the class under the age of 35, and Julio and I instantly bonded and developed a respect for each other's worldview. A Colombian native, Julio has traversed the US and basically done it all; from producing a music album to working as a human rights advocate.  He's now a fulltime filmmaker. It came as no surprise when I heard about his first full-length project, Nothing Against Life, a film about suicide. Like Julio, the subject matter is deep, but it's also deeply relevant. I decided that the best way to pay it forward was to write a piece about the project, so I sat down with Julio to discuss his film and find out more about the movement that he's set into motion. Also check out clips from the movie as well as a short film Julio created (all the way at the bottom. No peeking!)
Pilot Trailer from Nothing Against Life Movie LLC on Vimeo.
This is your first feature. What made you choose such a dark subject?
In a way I really feel like it was the subject that decided to choose me. I was intrigued by the kind of motivations that people might have when they attempt suicide. In high school a friend of mine committed suicide and no one ever talked about it. It was completely inexplicable to all of us; we just didn't know what to make of it. Then in 2001, while recovering from a painful hospitalization, I saw in the news this highly publicized suicide attempt in Seattle. A woman wanted to jump from the freeway to Lake Union. For some reason the event got stuck in my head; particularly the horrible response from some of the viewers. I couldn't believe that they were mainly upset by the fact that the traffic had been interrupted. That really made me question the way we view other people's struggles, especially since I was going through such a painful period of time. A few months later I was hanging out with two friends who also work in creative fields, and we ended up reflecting on the subject for several hours. That night I left my friend's place determined to research suicide. But it wasn't until I found myself ready to undergo a major surgery in order to survive that I realized I had to write this story. I guess one of the main reasons was the fact that at some point I didn't want to wake up from the surgery. At the time that seemed better and easier than continuing to live in pain and with major health problems. But I woke up, overcame the obstacles, and ever since I've been determined to produce Nothing Against Life.
Has wearing the hats of the writer, producer, director, and actor all at once made the process more difficult or streamlined?
Well, I wore all those hats while producing the pilot videos including a thirty-minute short that became an independent piece, but I won't be acting in the feature. I didn't play all those roles by choice but because we had very limited resources. We couldn't afford to pay anyone. It was very hard, but I wasn't the only one playing more than one role. The few crew members, and in some cases even the actors, were constantly switching hats. It was a true labor of love on everyone's end. For the feature next summer we are already building a team of young filmmakers who are willing to be a part of a collaborative creative process. Our intention is to make this a rewarding production for everyone. I feel a great deal of responsibility because many of them are getting a pay cut in order to be a part of our film. Some of us will only get paid if the film gets distribution. I guess a more clear answer to your question is that it has been very difficult to wear many hats while working under financial constrictions. But there are three things that I have very clear at this point: First, this is hardly my film any longer. This is the film of every crew member, actor, consultant, donor, collaborator and friend, who has become essential to this project. Second, between producing a film under very difficult circumstances due to the lack of financial resources, and not producing the film, the choice for us is clear: we are producing Nothing Against Life next summer. And third, we have a great deal of human resources and that's the best asset that any project can have. These people are not infatuated with the glamour of filmmaking but with the actual process of filmmaking. I know that we will succeed no matter what.
What's been the hardest aspect of making an indie so far?
I guess it's got to be fundraising. It is a very distracting part of the process but is also essential for any project. It is very hard to focus on creativity when you have to worry about finances. The whole concept of asking people for money is already intimidating and exhausting. Some people make it easier for you either because they're familiar with how the arts have been funded throughout history, or because they have been part of a similar concept. But for most people the idea of supporting the arts is as foreign as Camus' character Meursault in The Stranger. Maybe they have heard of it, and maybe they even applaud the concept, but they simply can't see themselves as an active force in that world. The other day I heard an independent filmmaker saying that he had to give the same speech at least five hundred times in order to find his ten investors. We remain positive and believe that within the next few months we will be able to find more people who will either make a donation or decide to invest in our film.
In the film, one of your main characters is asked, "What is a South American doing in Seattle writing about suicide?" Which elements of the main character are autobiographical, and what's the real answer to that question?
Since the very beginning, I decided that one of the four stories had to be about an immigrant. A foreigner among foreigners, as I like to say. Seattle is a very diverse city and you often hear that it is difficult to find people who were actually born and raised here. I'm lucky to have many friends who are Seattle natives, but I went through a period of time where most of the people that I knew were from somewhere else. As an immigrant you can often feel like an outsider, so in a way it's comforting when you feel that you're not alone. While I don't feel like an outsider any longer, I decided to start from that concept. That's how Felipe slowly began taking on a life of his own. He was the most difficult character for me to write. I think that because Felipe is an immigrant, it was hard not to feel inclined to recreate his life with my own experiences and struggles. But creating those kinds of limits is not necessarily healthy for the creative process. I believe you must give yourself freedom in order to be true to your writing, so I decided to unleash the flow of ideas and was finally able to find the character. And while Felipe might have some similar struggles to the ones I've had in life, he is by all means an independent character with an independent set of experiences. I should also mention that his story started to be clearer as I begun working with the South American actor who will be playing that character in the feature film. As I said before, this production will be truly a collaborative creative process.
Nothing Against Life is not just a film. You're also attempting to create a space for people to openly discuss issues surrounding depression and suicide with the blog. How do the two parts of the project add to one another?
When I first decided to research suicide, I was mainly intrigued by the kind of motivations that people might have when wanting to die. I think understanding mental illness is very difficult, and pretending to be an expert on the subject is rather inappropriate and irresponsible, but I have definitely learned a lot about the way suicide occurs in our culture. I conducted many interviews with suicide survivors and people who are either Bipolar or highly depressed. They were all unique stories but had many common elements. I found that for many people it's hard to be open about this subject, mainly because they don't want to be judged or misunderstood. If mental illness is understood, then we will be giving freedom to people who are at risk. They might feel that it's okay to ask for help instead of hiding behind their struggles. While conducting the interviews I kept remembering how I was taught in journalism school that those who own the media have the power to affect the world. Then I quickly knew that in addition to producing Nothing Against Life I wanted to do something else in order to help. As you know, the media as a concept and in practical terms has changed drastically since the Internet was born. Also the way that film and music are presented to an audience has been shaped in the process. So I decided that I wanted to write a story that respects the creative process and doesn't have a particular agenda, but that at the same time welcomes an open dialogue about suicide. And let me tell you, for some people, the short film and the concept of the feature have already been a good excuse to start that dialogue. We have received letters from people telling us their stories and thanking us for trying to create this space for dialogue. But I want to be emphatic about the fact that the side campaign has not affected the truthfulness of the storytelling process. On the contrary, it has giving us momentum and energy to produce the film.
Nothing Against Life: Artistic and Social Objective from Nothing Against Life Movie LLC on Vimeo.
Why did you decide to do the project in two languages?
When we produced the pilot and got ready to present the project we wanted to reach a wide audience. Presenting the project in both English and Spanish felt right not just because Spanish is my native language, but also because one of the characters, who in a way plays the role of a narrator, is an immigrant from a Spanish speaking country. We wanted to present it in a few other languages. I even started creating the Italian version and wrote some broken French, but the lack of financial resources didn't allow us much time. I'm glad that we decided to present the project in two languages. The Spanish and Latin American media have been generous to us and that has given us a great deal of energy to keep working hard.
Have you found a more receptive audience or media attention in the US or abroad?
People have been great everywhere, and for that we feel extremely blessed. As I said earlier, some people have written us letters saying, "I love what you're trying to do for this and that reason", and "you must produce this film", etc. But the media has definitely been more receptive abroad. I must say that I'm not surprised, because I have always found that while most people here in the United States are open, some can be rather skeptical at first. We are very grateful that we have gotten coverage from several newspapers and radio stations in Europe and Latin America, even though we don't have big names attached to our project. They're simply interested in the storyline and in the way we're approaching the subject. They also like our idea of trying to create a space for dialogue about suicide. And it's not like they're saying that we have already succeeded, because we haven't produced the feature yet, but they have seen the short and the documentary about the feature and become intrigued. They like what we're trying to do, and they are curious about the final outcome of the project.
Why do you think people from Spanish speaking countries have been so supportive of the project?
Spanish speakers are very supportive of each other. People find it interesting that the story is in English but it has a Latin American character as the narrator. Suicide is a universal subject so why not tell the story from the perspective of someone who lives in a foreign country? Globalization has changed the way people live in many communities around the world. People from the United States have gone to live in many other countries and have contributed to different communities in many ways. Spanish speakers have done the same all over the world-, and for many decades now- but we are often overlooked. Spanish speakers from my generation love to travel and immerse themselves in other cultures. So I think that Felipe's story-, which is one of the four stories that intertwine in the film- has in a way resonated with many of them. And again, we are very supportive and celebratory of each other.
What made you choose to shoot the film in Seattle?
Seattle has all of the elements that we need in order to tell our story. Not only is it a city with one of the highest suicide rates in the United States, but it's also a city with a great deal of diversity. I have met each one of my characters here. Not once or twice, but many times. I am fascinated by the fact that I can truly meet a completely different person every day in this city. And I know that sounds very generic because we are all supposed to be different, right? But I have traveled a lot and have lived in different cities, and I still think Seattle is right up there when it comes to diversity. And something beautiful about it is the fact that people here are generally respectful of each other even if they completely disagree when it comes to important issues or lifestyle. I think this gives the city an air of sophistication that combined with the beautiful landscape, and the remarkable art and music scene, makes the city perfect to produce this kind of film.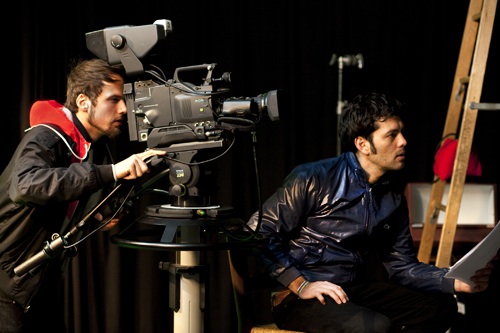 With independent films, there's a wide range of possibilities for where they can go. What would you like to do with the completed film, and how will you measure success?
Success is always a subjective concept, and even more in this context. We will be successful if people around the world, regardless of the number, think that we produced a beautiful film that made them feel something, or made them reflect about a particular aspect of their lives. We're often changed by film, music, art and literature. If we have that effect on someone then we're already successful. It might not happen right away but we're committed to get the film to many places. Of course an important way of looking at this is getting theatrical release or any kind of distribution, and we will be definitely open to alternative choices. Also, we will be successful if Nothing Against Life helps to create the much-needed dialogue about the difficult subject of suicide. We will continue to use different tools to facilitate an open dialogue. We have even been asked if we would consider creating an educational piece once we finish the film, and we are very open to explore that possibility, but at the moment we need to be fully committed to respecting the process of telling the story. But there is room to do many things with our film. Again, times have changed, and I think that the film industry is reinventing itself. And independent filmmakers are playing a very important role in that process.
Any ideas for your next project?
I would like to look deeper into some ideas that I have been exploring with our cinematographer Carl Adelson. It would involve producing a film in a different country and potentially in a different language. But it's too early to talk about that. One thing at a time. At this point we're 100% focused on finding all the resources that we need in order to produce Nothing Against Life next August.
Nothing Against Life: The Short from Nothing Against Life Movie LLC on Vimeo.
[Gopher-friend and contributor Ashley Ellis is a freelance writer and filmmaker, and a founder of
ALIVE
and
EmeraldCityArts
. Images and videos courtesy of Julio Ramírez at Nothing Against Life ]
---
---