Pick a Piper makes us wonder about drums
---
---
Having made the (admittedly very basic) Internet rounds it's clear that Pick a Piper is exciting the ears it reaches. Their sound gets described in elaborate, evocative, complex and sometimes downright nonsensical terms like "Ecstatically charged yet almost trance-inducing, PAP are a vodka-redbull with none of the edge, all of the euphoria and zero unpleasant aftertaste" (source). What fascinated us was the absolute ubiquity of the word "tribal" to describe the music. Is it that drums, heavy drums, and superimposed rythms taps into our monkey-brain so that we can't help but dub it something like "tribal"? (we would love to know your thoughts!) What we hear is a brilliant display of heavy percussion – they play "Siamese drums" which is a fancy way of saying two drummers playing two drum-sets that are attached at some point – married to floaty melodies, and the overwhelming desire to get up and dance around. Go ahead, play a song. We dare you to sit still.
Pick a Piper – Yellowknife
Audio clip: Adobe Flash Player (version 9 or above) is required to play this audio clip. Download the latest version here. You also need to have JavaScript enabled in your browser.
PAP is (and this is straight from the horse's mouth) "A collective featuring Brad Weber of Caribou, Angus Fraser of Tenth of May, Dan Roberts ex-Winter Equinox and Clint Scrivener." Their self-titled EP was released by Crony Records (which Weber and Fraser founded) and you can download the whole thing there for free! The Pick a Piper folks are in Canada and rumor has it they play a mean live show – see the video below and be amazed.
Pick a Piper – Bechtel Park
Audio clip: Adobe Flash Player (version 9 or above) is required to play this audio clip. Download the latest version here. You also need to have JavaScript enabled in your browser.
Pick a Piper Live – Sir Lancaster from Reed Video Production on Vimeo.
Pick a Piper – Rooms
Audio clip: Adobe Flash Player (version 9 or above) is required to play this audio clip. Download the latest version here. You also need to have JavaScript enabled in your browser.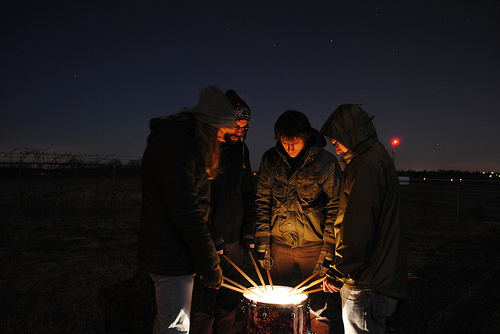 Pick a Piper РDen̩ Sled
Audio clip: Adobe Flash Player (version 9 or above) is required to play this audio clip. Download the latest version here. You also need to have JavaScript enabled in your browser.
---
---