2009: Noah and The Cramps
---
---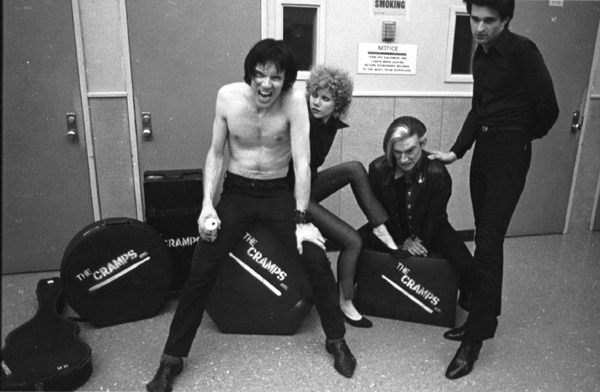 Ok people listen up: is December 29h, midnight's approaching and we haven't decided yet which song will end up being our last post of 2009. You know how it is: you plan to work all night but then wine uncorks itself, fake moustaches appear [ and piñata hats ] and eventually zig-zag is the new A-to-B; so, in honor of this pleasant dilemma of too much music to share, and too many guests to entertain, the according tic-tac-toe solution: a tie. You see, some of us Gophers have the idea of sharing timeless songs of psychobilly madness [ with microphone deepthroating! ], while others believe that above all, 2009 is for the twothousandandniners [ bureaucrat talking! ]. Yes, yes, we could have solved this in a drinking spree and indeed some town was painted red, but, uh, conundrums and uh, THE SONGS:
For those of you out there who believe 2010 will be the year of having cojones:
The Cramps – Tie It Up [ 1980 ]
Audio clip: Adobe Flash Player (version 9 or above) is required to play this audio clip. Download the latest version here. You also need to have JavaScript enabled in your browser.
And for those of you who believe that 2009 was a nice year to save some of that for the next one:
Noah and the Whale – Blue Skies [ 2009 ]
Audio clip: Adobe Flash Player (version 9 or above) is required to play this audio clip. Download the latest version here. You also need to have JavaScript enabled in your browser.
We love both songs, we're sure neither of their composers thought they'll end up together in anything, we'll miss Lux Interior from The Cramps who died on February of this year and we welcome very warmly the Noah-Whales to our you-make-things-feel-fuzzy collection, and yes, we do know the band has been around since 2006, mind you.
And so in this beautiful, chaotic, democratic potlach the 2009 in music arrives to a hurried stop. The Cramps photo is by Jeff Good and the Noah and the Whale from their MySpace, thanks-a-plenty for your time and hundreds [ thousands! ] of clicks in hour beloved music player this year; nevertheless, please don't take our cutlery home with you.
And no, you can't sleep here either, this is magazine, not a hostel. Happy 2010.
---
---